Girls Spa Party
🎈 Mobile Kids Spa Parties At Your NJ or NYC Home or Hotel Suite 🎈
🧁 Spa Parties For Girls (Ages Three And Up) 🧁
'NJ Mobile Kids Spa Parties'™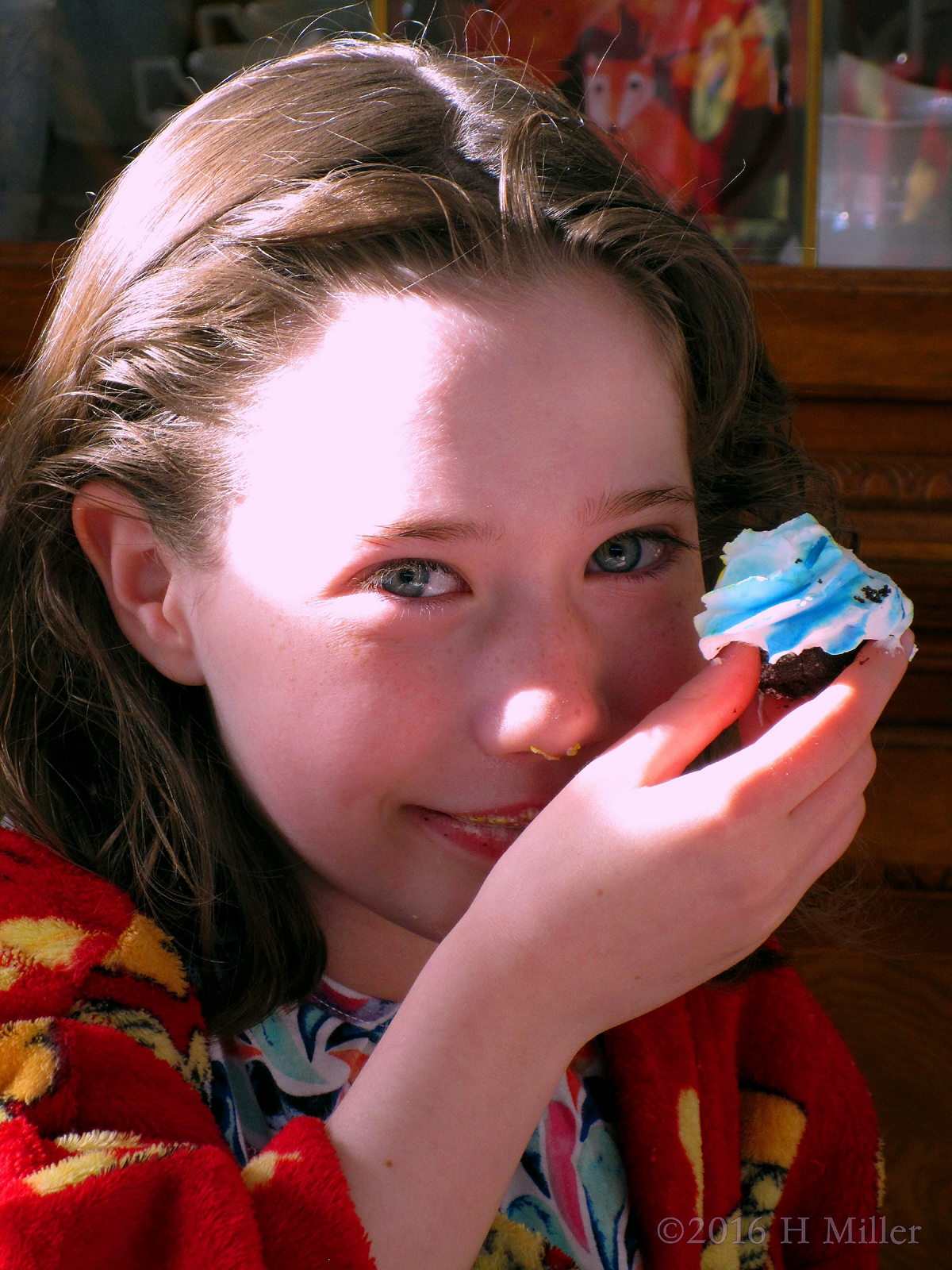 Click Here For Our NEWLY Relaunched Spa Party Gallery 💅(2023)
For your little girl, 'tween, or teen's birthday party (or other celebration), consider our In-Home Spa Party For Girls.
Besides smaller parties, we've also done Spa Parties for Girl Scout Troops, camps, and other larger groups. We have hosted many AMAZING home spa parties over the years, and we know how to keep kids engaged and interested. We are among the innovators, not the imitators, and it shows in the level of care in all we do. We're also extremely flexible, and do our best to work with your plans and unique party situation.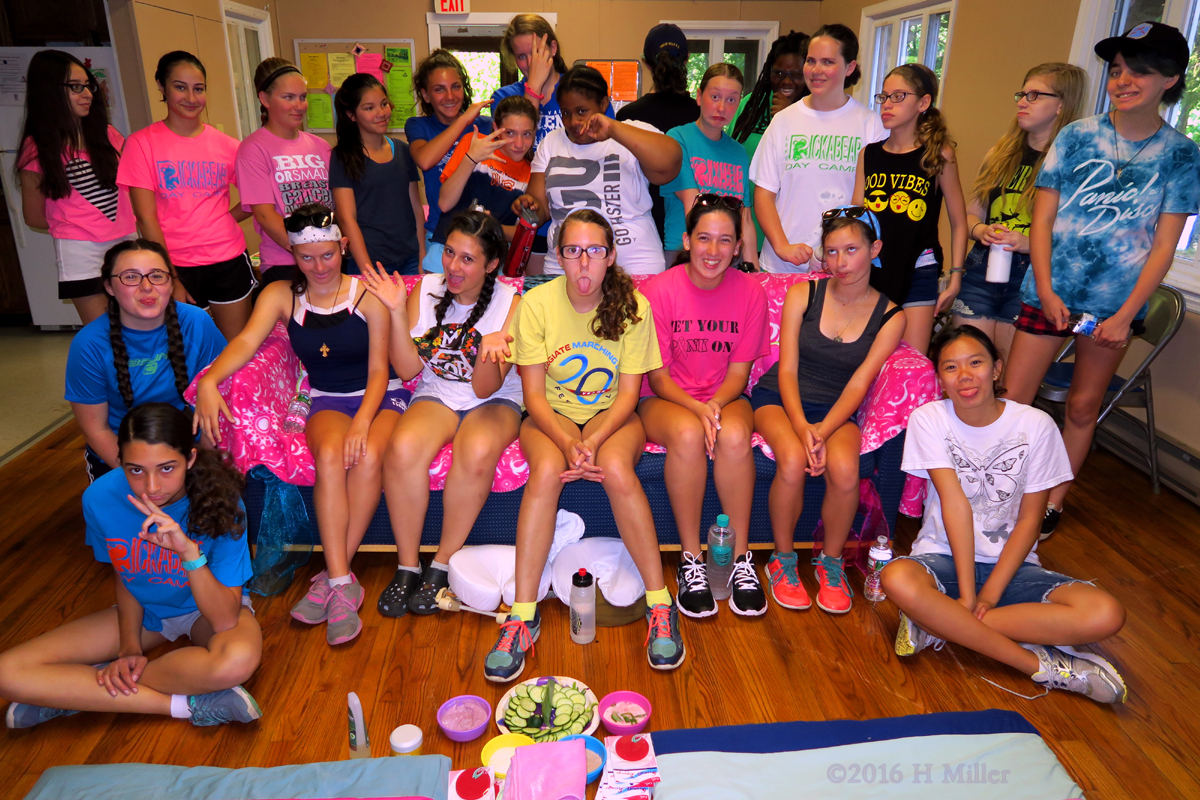 We provide an authentic home spa for kids. We exclusively employ all-natural, highest-quality ingredients, often organically certified, never using any harsh synthetic chemicals often found at day spas for women. We are Certified Pediatric Massage Therapists (CPMTs) with many years of experience, so we may administer facials and massage therapy to kids and adolescents, as well as older guests at the party, as this is within our scope of practice.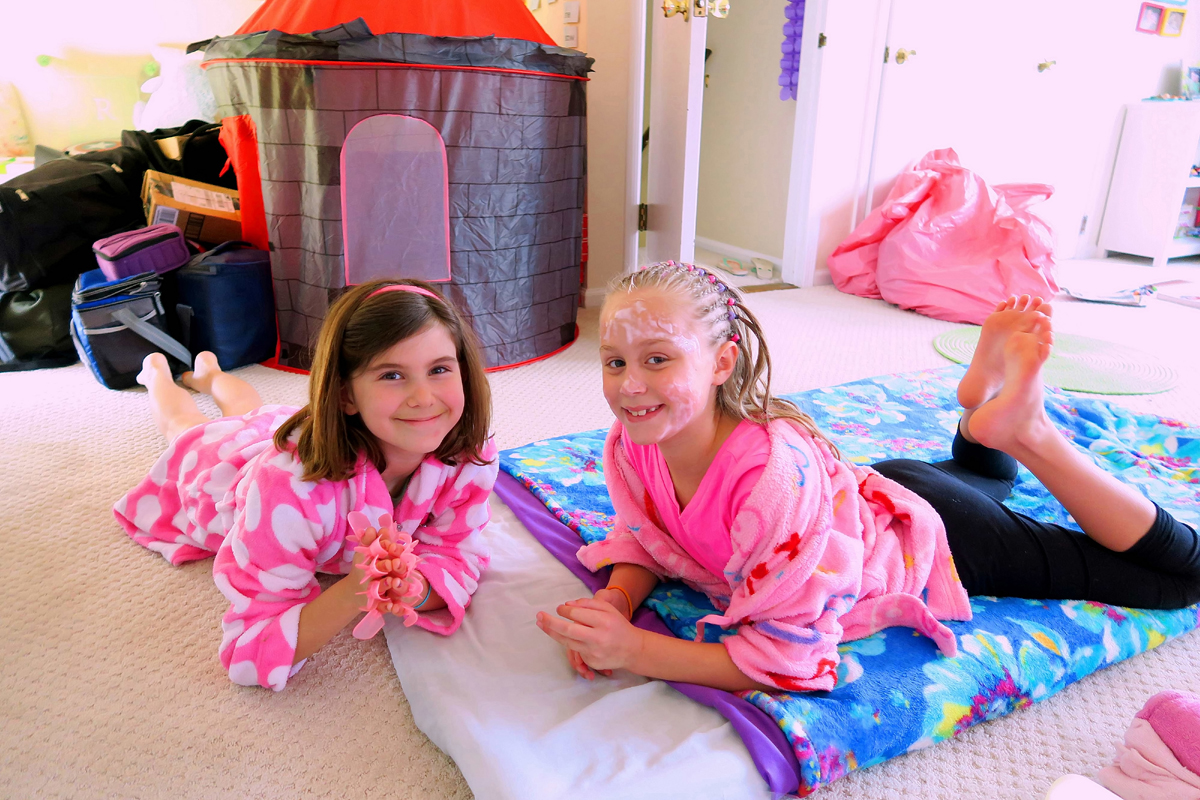 This page is organized into clear sections to help make planning the party easy. Below, there's a section on Spa Atmosphere, then a Brief Outline of Included Services and Options, then Add-Ons info, followed by our Party Themes. Next, there are sections on Girls & Self-Worth. The Value Of Calmness, Boys At The Party, and Yoga Party info follows. (Other pages on the site go into greater detail on related topics, like Party Planning for Moms and Pediatric Massage.) Hope this helps! 🥳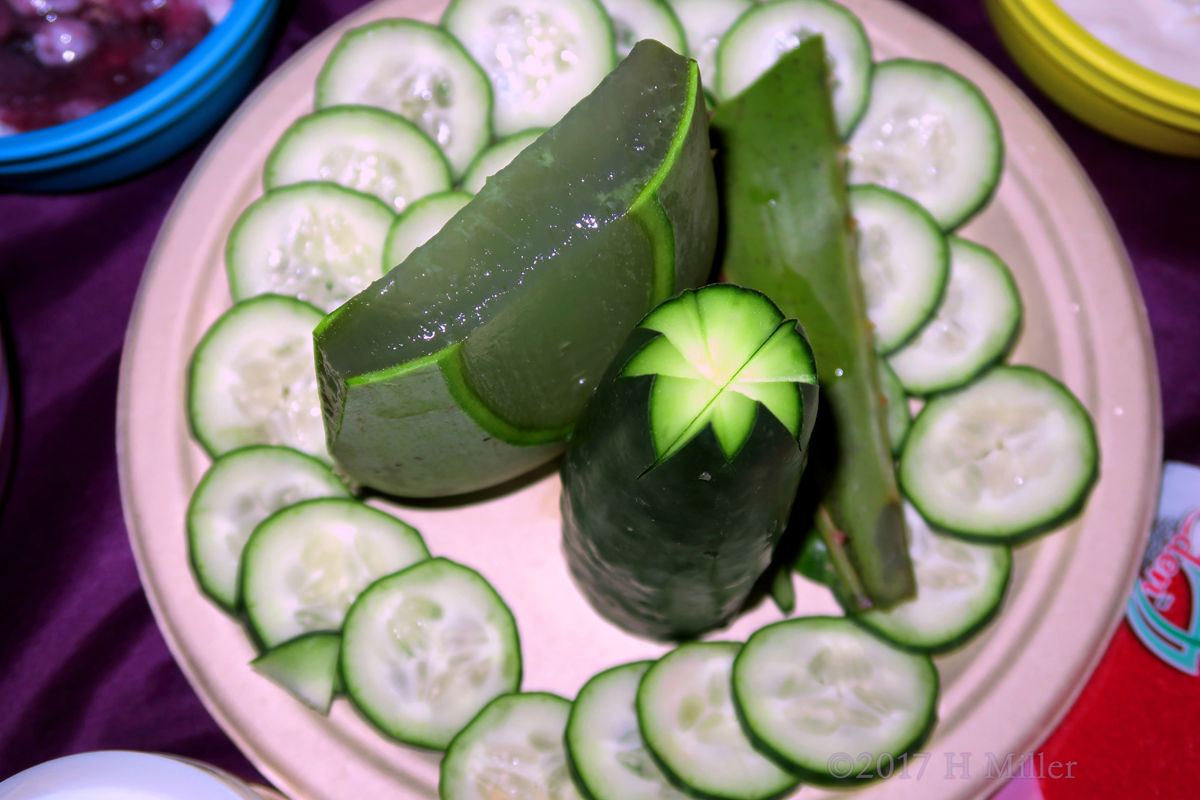 Mountainside On-Site Massage Therapy's™ experienced party technicians travel to your home, transforming your living room, den, or even sun deck or poolside patio, into a relaxing Kids Spa Party setting. If you've booked a hotel for an all-day Spa Birthday Party, we can also travel to your suite. We'll travel to any New Jersey event venue where your Mobile Kids Spa Party is being held, whether it's a community center, a lakeside lodge, or anyplace else. We are available seven days a week, morning, afternoon, and evening hours.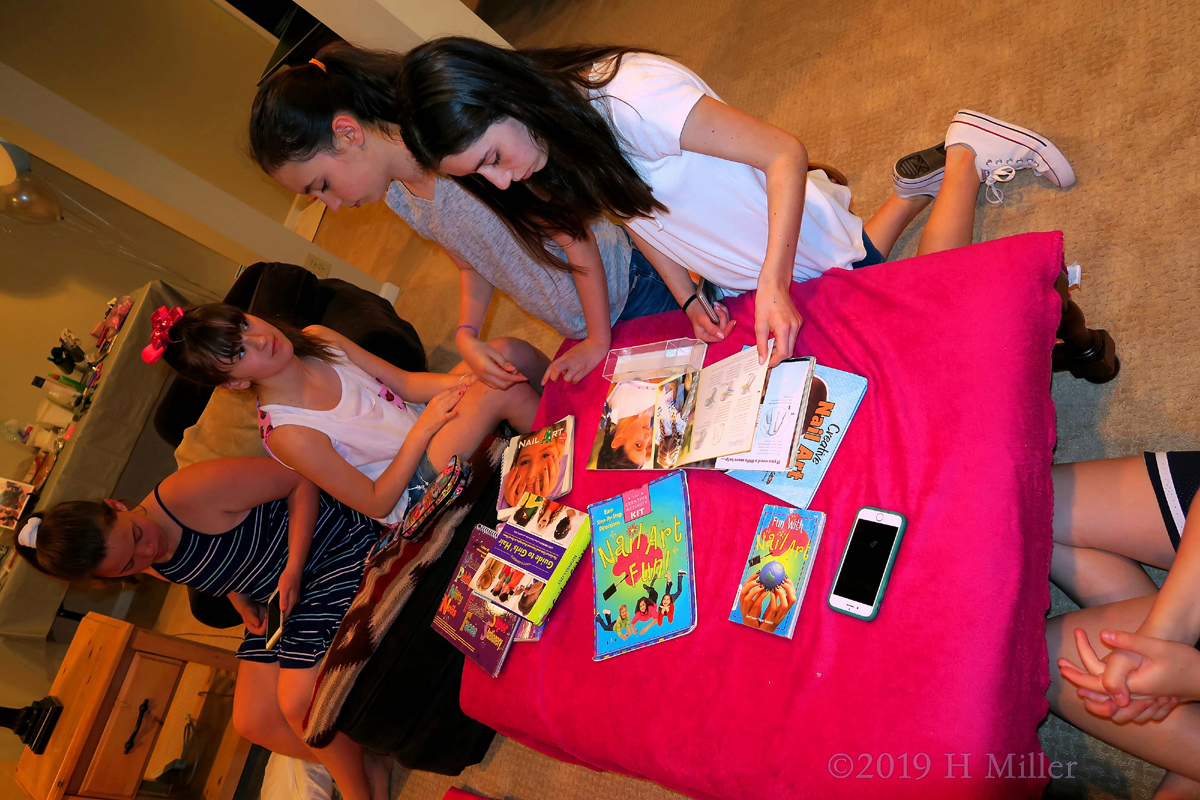 Your daughter and her guests will be smiling, laughing, and having the time of their lives as each is treated to a fun and entertaining, yet relaxing and beautifying, authentic and educational Spa Experience. Mobile Spa Parties For Kids are the absolute coolest birthday party a young girl in New Jersey or New York City can have, even with all the other fun choices available. (Just ask your own kids if you're not sure this is really the truth!! If they've been to a spa birthday party but it wasn't ours, imagine the fun they had times a million! Our Kids Spa Parties are the genuine article and like no other!)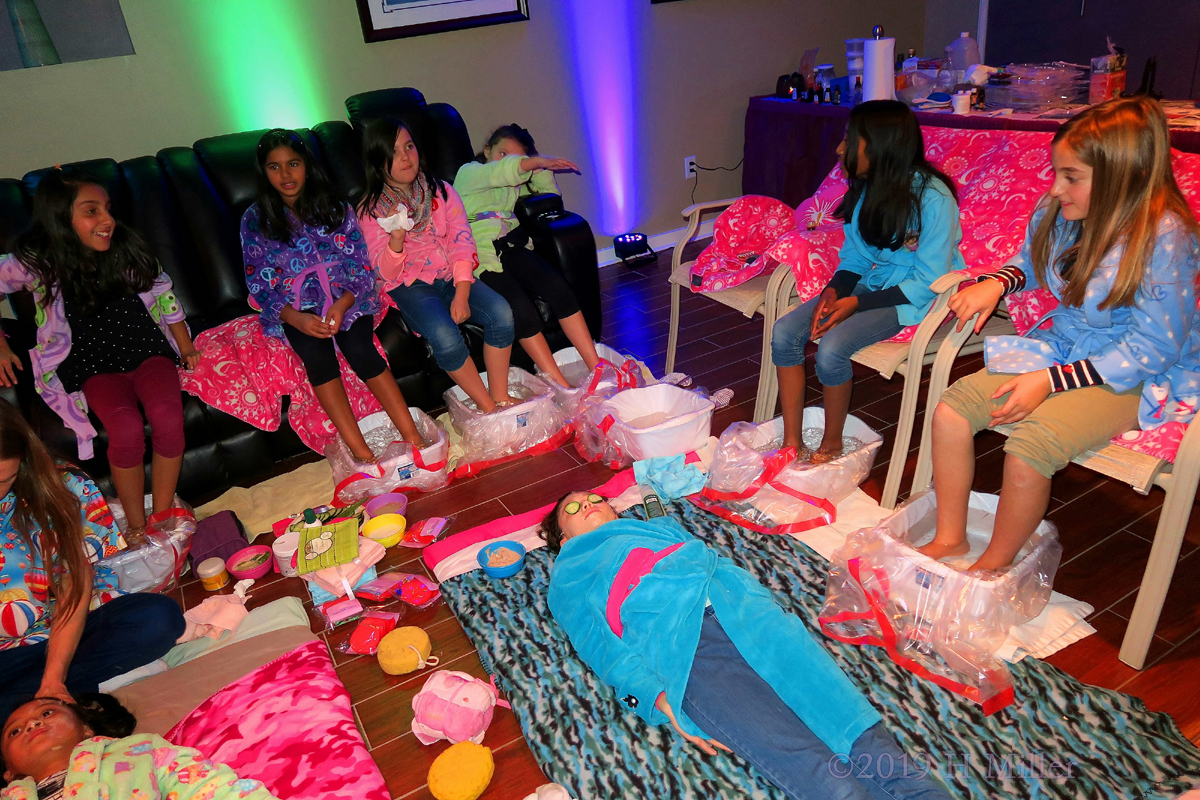 Gift Certificates for Kids Spa Parties NJ / NYC are available for your nieces, grandkids, or any other young girl relatives you feel you'd like to show that you love!
❤Please Click Here for Gift Certificate Info❤
It Begins With Authentic Spa Atmosphere...
Our Spa Parties For Girls are truly unforgettable events. (We are not exaggerating!) Each and every guest actively participates, having the opportunity to choose which activities she'll do. And, there's so much to do, so many options! We also encourage parents (or other adult family present) to get involved and receive a massage, if they wish. We know just how much goes into planning a Spa Birthday party and how stressful it can be! We are trained to work on adults, as well as kids, and it's actually a lot of fun to participate with your daughter.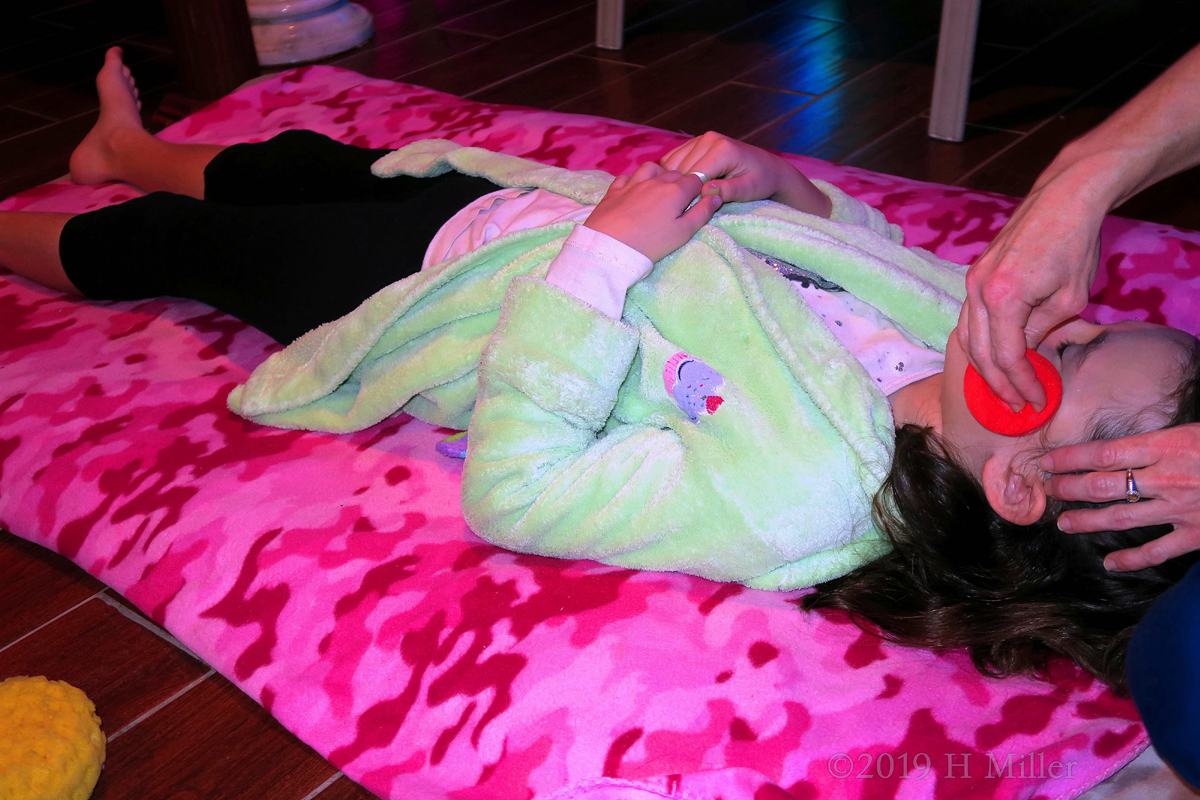 We bring everything. We only require a little bit of space to set up the activity areas and crafts. We arrive early to prepare everything so your daughter's Home Spa Party may commence in a timely manner. And we create a Home Spa with attention to every detail.
What's a Spa without candles?! Our flameless LED candles look really cool, and they literally are! Emitting no heat or flame, they are completely safe with even younger siblings around. Now, we also have NEW special (flameless) candles that luminesce a rainbow of changing colors!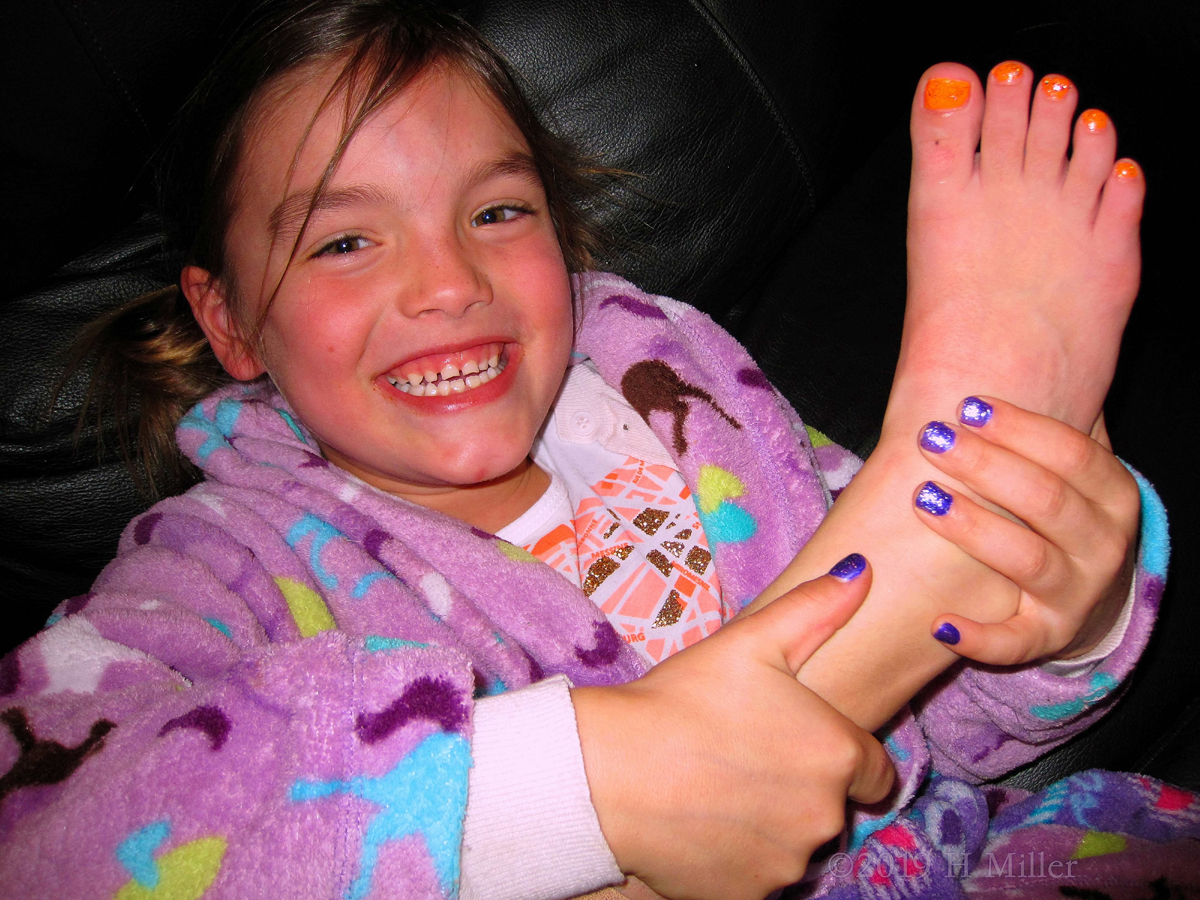 We place brightly patterned throws over the furniture, and use pretty pillows, table cloths, ribbon, and other elements to create the perfect dècor for your Kids Spa Party. (This also helps protect the surfaces.) All is washed and disinfected between parties. (For more ideas on personalizing your party with your own creativity and style, we have compiled a guide over the years.
Click Here For Our Kids Spa Party Guide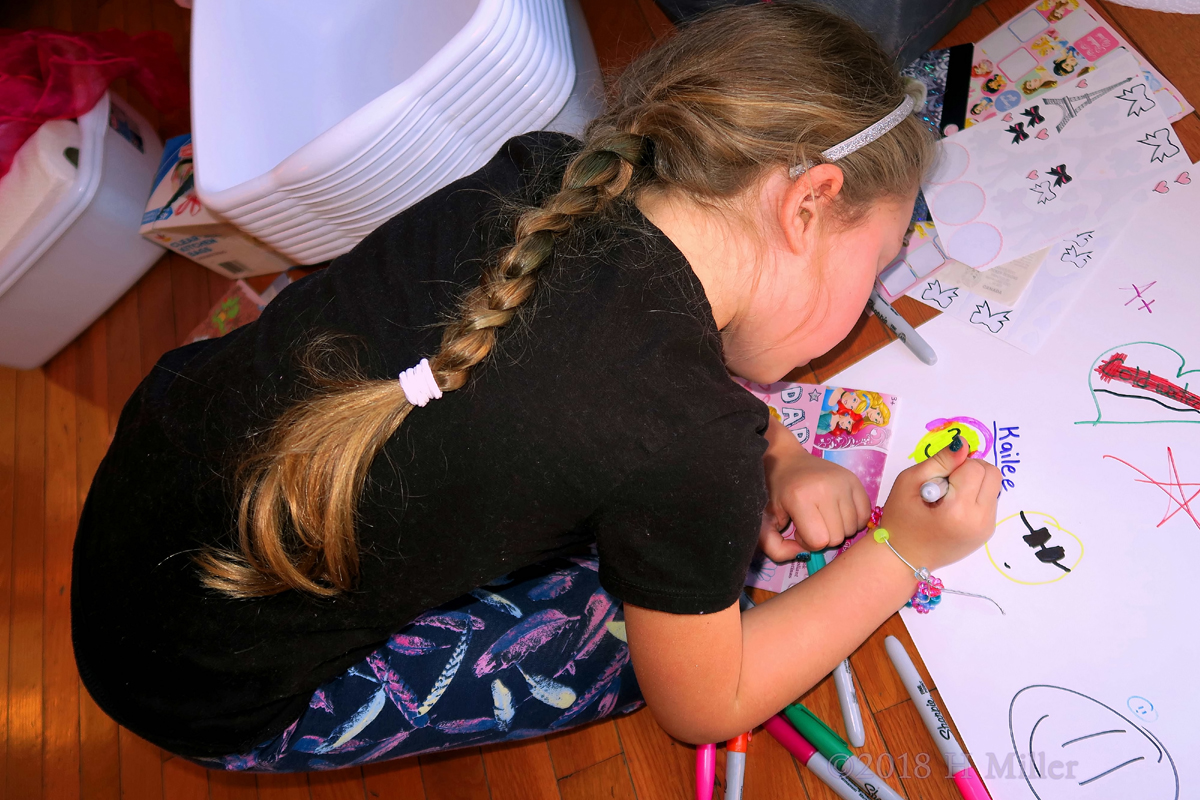 We bring a wide selection of relaxing nature sounds and spa music tracks. (Some kids prefer to leave the TV on with Music Choice Soundscapes, NJ Music Choice Kidz Only!®, the Disney Channel®, or cartoons, but some girls may prefer a quieter atmosphere.) Others prefer relative silence. We also scent the air with 100% natural Essential Oils. We have a lot to set up for a Kids Spa Party, but we know what's required, and do so surprisingly quickly.
Through experience, we've enthusiastically created truly spectacular Girls Spa Parties, constantly refining our creative efforts based on seeing firsthand which activities and crafts kids enjoy most. We're always adding new stuff, and changing with time, with the goal of making each and every Kids Spa Party event more amazing and memorable than the last.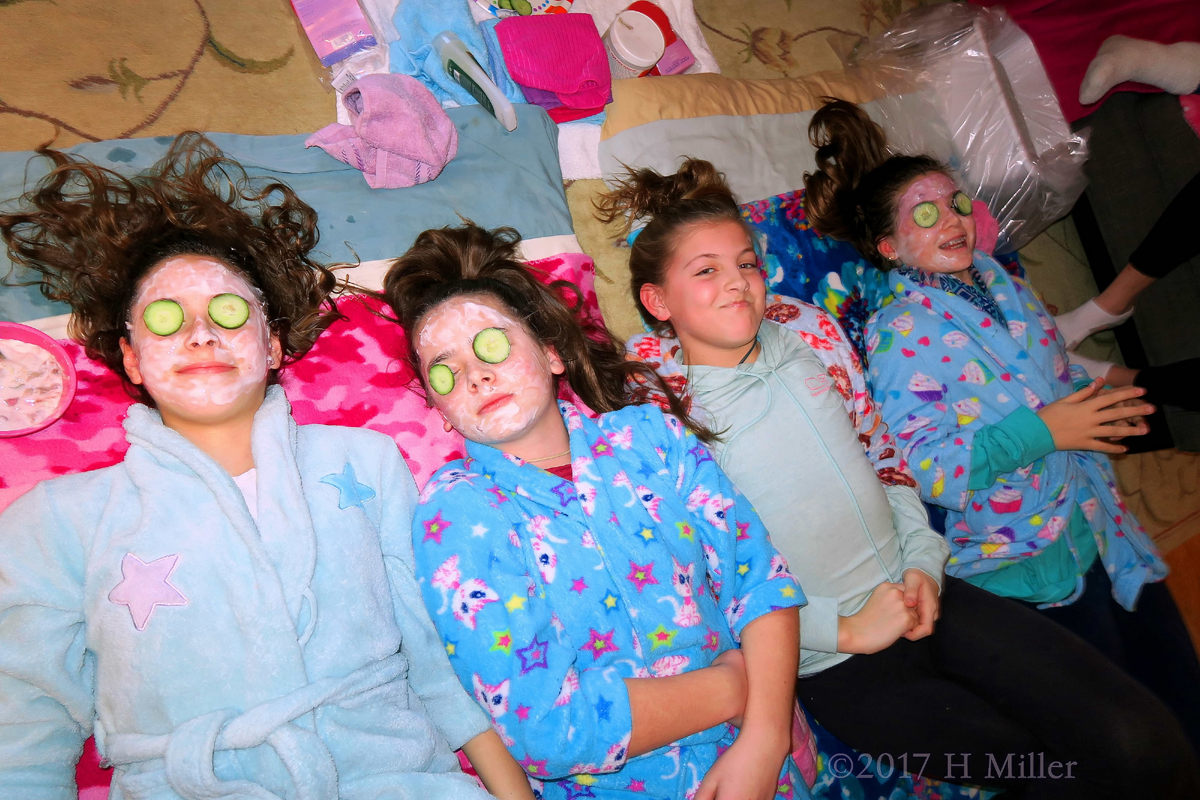 You decide (ahead of time) how many activities you wish to have each girl participate in at your daughter's At-Home Spa Party. All five activities listed below are always available to each guest, so you don't need to know ahead of time what each of the girls want. The most frequent requests are for two or three activities for each guest, though some parents do opt for more, often depending upon the number of guests their daughter is planning to invite to her Spa Birthday Party, as well as time considerations.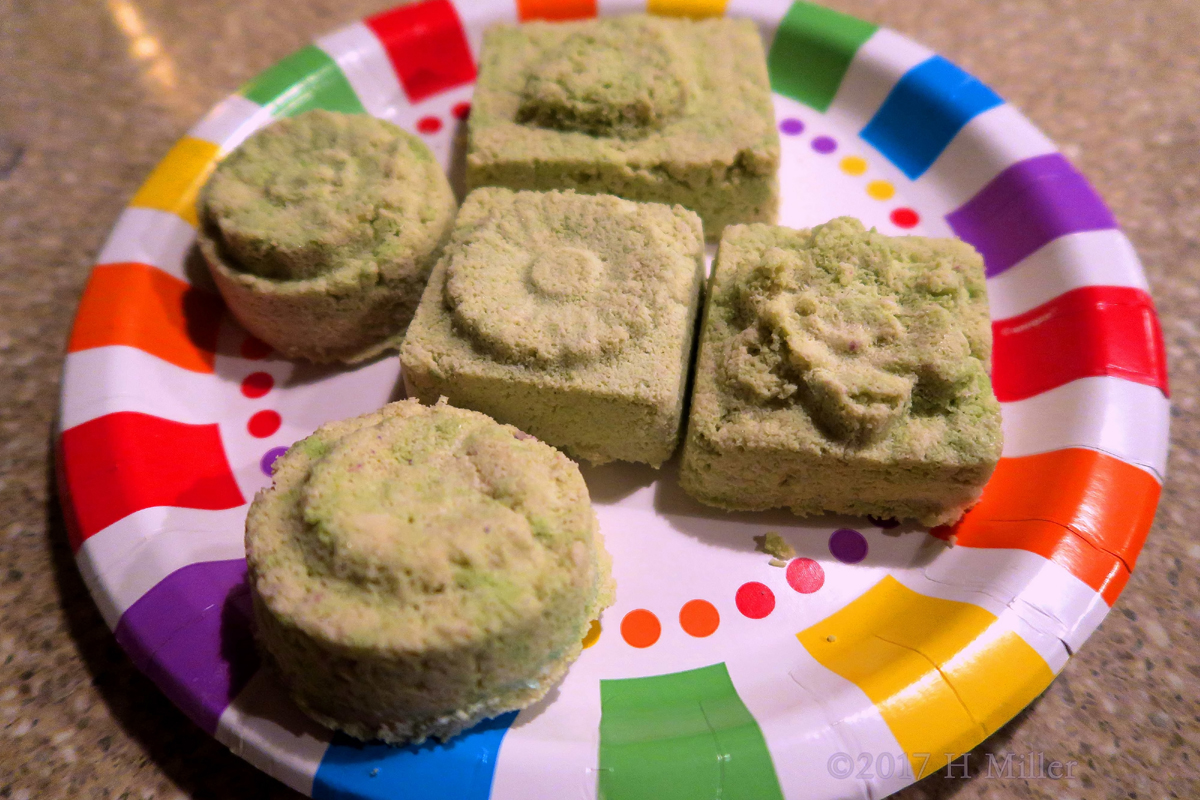 Spa Party Packages, Services, & Add-Ons
All of our Spa Party packages include Spa Services, as well as seven Crafts, and other cool stuff.
An At-Home Spa Party For Girls
provides guests with a choice of *ANY TWO* activities listed below. The Kids Spa Party
provides guests with three activities each. Our At Home Spa Party For Girls
includes four activities per guest. The Mobile Spa Parties For Kids
includes five activities.
Each guest chooses which of the activities she'll participate in. (All five activities are available to all guests, regardless of package.) Or, you (or your daughter) may limit the available services to fewer than all five.
(You may upgrade to a higher package on the day of the party, but no downgrades to lower. *Please keep in mind that facials require at least one day's advance notice so we have time to purchase the perishable ingredients, like fresh cukes and aloe vera leaf!)
Available Spa Activities kids may choose from:
1) Therapeutic Massage For Kids. (The kids massages will only be performed by experienced Certified CPMT Pediatric Massage Therapists)

2) Spa Facial with Masque and Cukes. 🫐 Purple Blueberry 🍓 Pink Strawberry , 🦄 Unicorn Rainbow Cocoeeey Chocolate 🍩 🥒 Cucumber Slices

3) Nail Art Manicure.

4) Scented Halite Salt Footbath & Pedicure.

5) Hair Styling & Effects.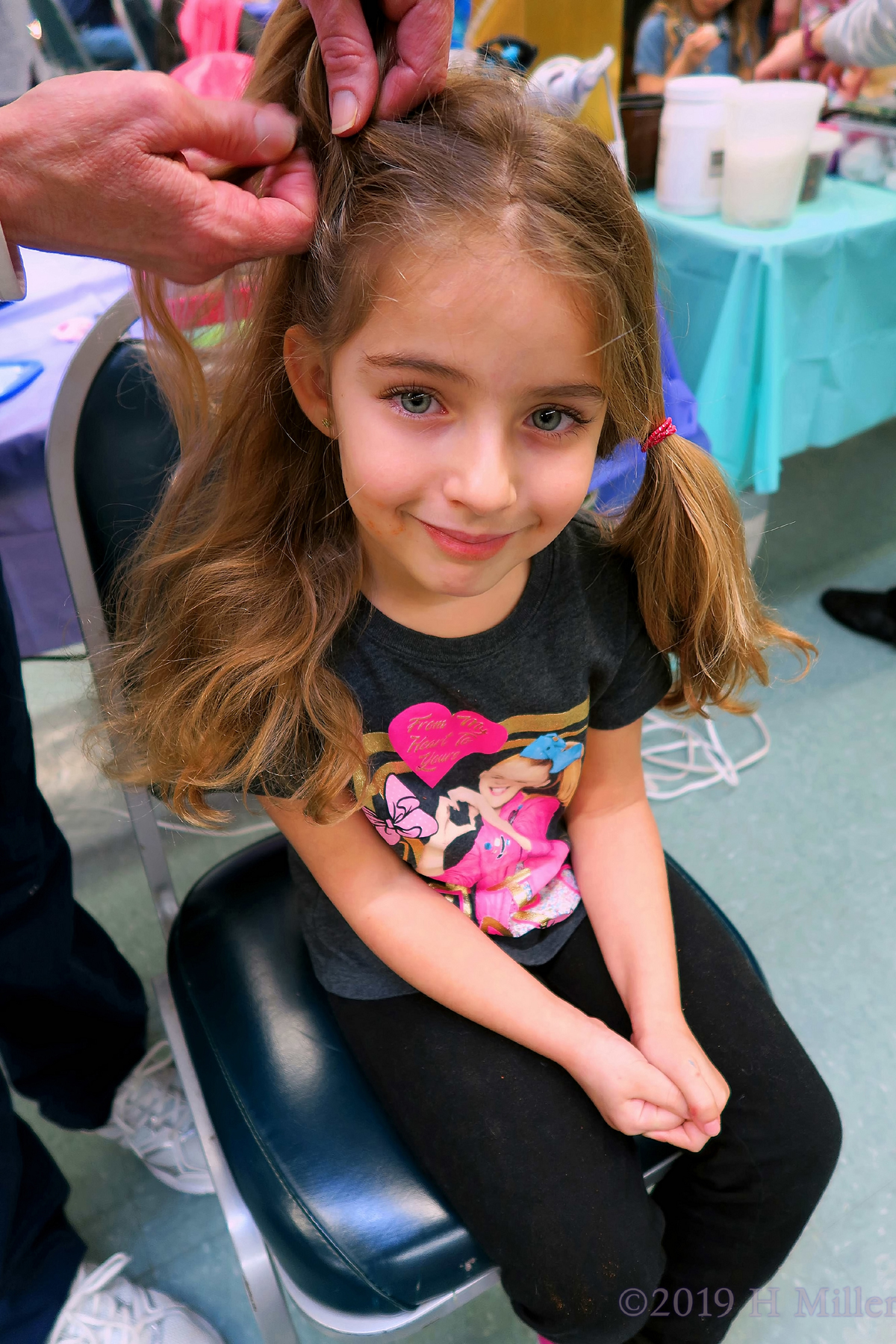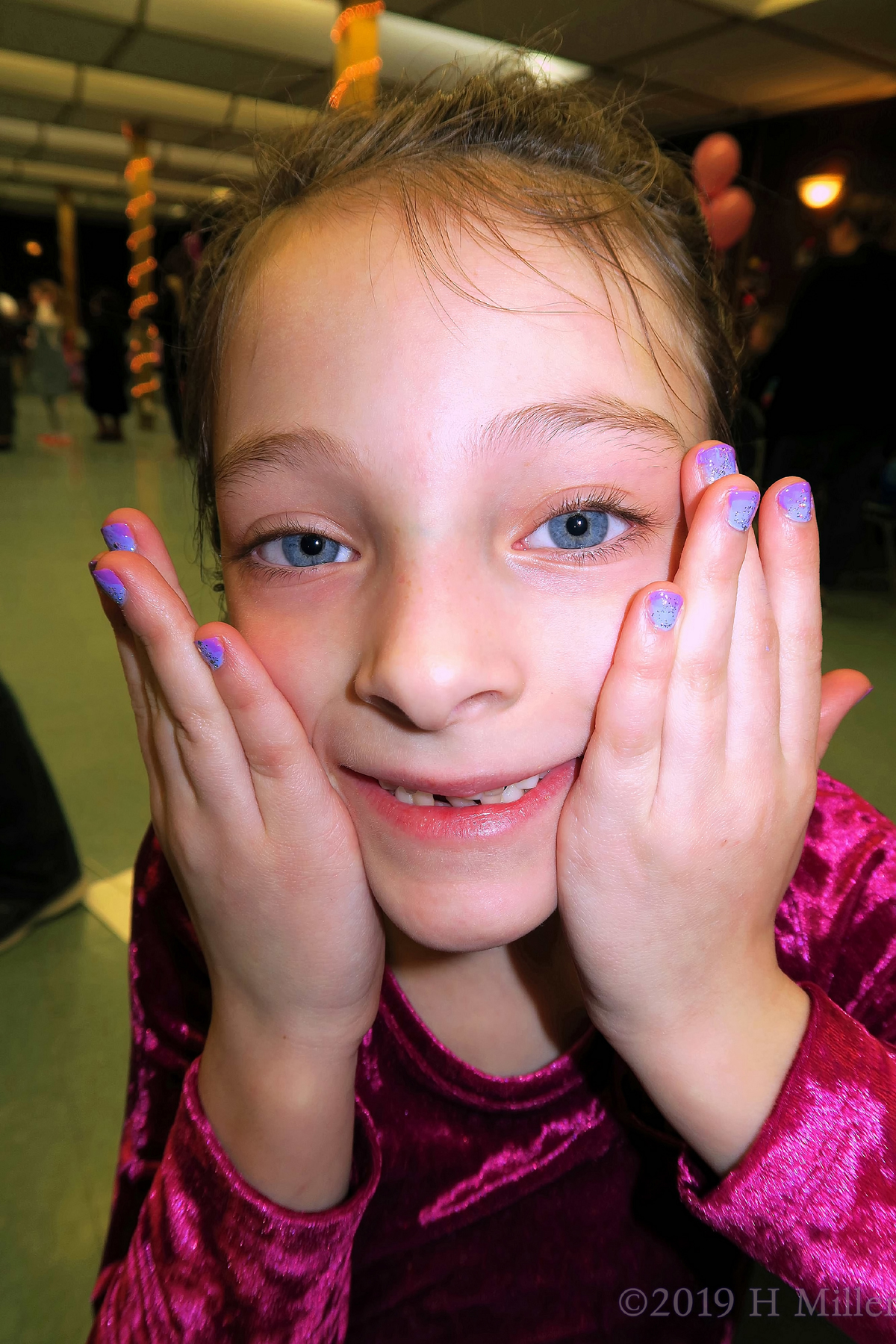 S.T.E.M. Spa Party Crafts?! YES! Fun, Educational, and Practical?! Also, YES. Boring? No way!🤣 🤣
Our Kids Spa Party Crafts are lots of fun! Girls learn how to easily prepare simple, yet effective skin care products they can then make later at home. The crafts are educational and provide information about the ingredients that are used in each, why they're used, and how each constituent affects the skin. Active learning really teaches kids effectively, and skin care is an important topic every girl (and boy - brothers and boy guests usually enjoy doing crafts, too!) should be well-versed in.
And, as of 2019, our newly reimagined crafts present even more of a chance for kids to learn. STEM stands for Science, Technology, Engineering and Mathematics, and our crafts get girls to learn the science behind skin care. Each craft now includes background info on ingredients and scientific data and chemical formulae. Seriously.
Kids of all ages enjoy the crafts; fun and interesting, each craft is different and varies in difficulty. From Honors middle schoolers and high school kids, to girls in the early grades, the crafts are engaging and fun for all. Younger kids focus more on the texture, colors, and aethetics. Older kids are challenged to learn at the level more appropriate to their age. More academically advanced girls appreciate the more complex STE(A)M aspects of this group-led cooperative lesson. Everyone learns something, guaranteed.

Creative Expression 😻 😻
Choosing their own personalized details, like soap color, scent, and added flower petals, allows for creative expression. (Hence the "A" for Art that has been added to the STEM acronym) Creating their own stuff they get to keep makes the experience more relevant and meaningful. The Spa Birthday Card also provides a space for the girls to express themselves, individually, and at the same time as part of a collaborative creative effort.
No Bored Kids 😴 😴
If there is a large group, inevitably some kids will be waiting around. That leads to boredom. That's the last thing you'd want at a party! Besides helping girls learn about how to care for their skin, crafts keep all the partygoers entertained and engaged. Crafts also encourage bonding among the girls, some of whom may not have met prior to the party. Of course, a few crafts require adult supervision or older teen (sibling or cousin's) help for younger kids, while others do not.
Spa Parties For Girls Included Services, Crafts, and More
At-Home Girls Spa Party Robes AND NOW PJs - *INCLUDED*
When your guests arrive at the Kids Spa Party, they begin by choosing robes. Girls love dress-up at ANY age! (As of December, 2022: PJs are now also included for FREE! No longer an add-on!) We bring enough for all of the guests, in a range of sizes, styles, and colors. And, we always bring a few extras, in case unexpected guests who didn't RSVP show up. All robes, washcloths, linens, and cotton headrest covers are always clean, freshly laundered in color-safe bleach with disinfectant between parties. After choosing robes to wear, the group of girls usually begin the Kids Spa Party activities and crafts.
Girls At Home Spa Yummy-Yes™ Lip Balm Craft - *INCLUDED*
Our Yummy-Yes™ All Natural Lip Balm Craft is super-cool! Each and every girl gets to create her own lip gloss with a choice of the following flavors: Strawberry, Chocolate, Peppermint, as well as Orange-Sherbert. All are 100% Natural. Girls can even make combo flavors like Strawberry-Mint, Chocolate-Orange, Strawberry-Mint-Chocolate, or any other mix of flavors they choose. Being creative is what it's all about! This craft, along with all SIX(!!) others, are included in every Spa Party package!
An adult or older adolescent present at the party can do this craft with the girls while they're waiting for their nails to dry or for their facial or other activity to begin. It's a fun way for a Mom or Dad to spend quality time with their daughter and her friends. Because the flavors are so yummy and there's such a variety, kids always love it.
It's easy, all natural, additive-free, and a lot of fun! We provide all the ingredients necessary to create our special formula for the Lip Balm, and bring lip balm jars and everything necessary to create some cool, amazing-tasting lip balm!
In a few easy-to-follow, yet interesting and fun steps, your Spa Party guests create their own custom-flavored Lip Balm (food grade and vegan; no animal-derived ingredients) that they can take home with them in round cosmetics containers we provide.
Our custom formula was created and refined through years of trial-and-error, finally arriving at a formulation that is both great for keeping lips protected, as well as tasty and sweet, without sucrose or added sugar, or anything artificial. (May, 2012: Now with smoother, more pleasant texture! And still vegan!)
(Please note that the Lip Balm Craft is included in all packages, and Crafts do *not* count toward one of the 'activities' listed in the pink box above. Crafts are done by the kids on their own, or with the assistance of an oler sibling or adult *WHILE* we are doing the Spa Activities at our At-Home Spa Birthday Parties.)
Kids Spa Party 100% Natural Scented Glycerin Soap-Making Craft Kit - *EXTRA**NOW INCLUDED!*
Our Soap Making Craft has just been expanded and refined. (Nov, 2014!) Now there are more choices of fun soap shapes, a vast array of colors (opaque and translucent), new scents, dried flowers, and butters to add. This craft has gone from already being cool to one of the most incredibly amazing Kids Spa Party Crafts we offer! We take our crafts seriously. All the supplies for making glycerin soap are provided, and we're always right there to help if anyone has any questions. All Natural. This craft requires some adult supervision. (Must have access to microwave and refrigerator for this activity; for hotel spa parties, this may require arranging to have a microwave brought up to the room by hotel staff.)


Kids Spa Birthday Card/Guest Board Craft - *INCLUDED*
(May, 2012: NEW!) The Kids Spa Birthday Card is a large card that the party guests create together. Even the Birthday Girl can join the fun and help decorate the card! (We bring a ton of colored markers, lots of stickers, decorative tape, stamp sets, and thick foam-core board.) The kids can decorate the card with their own unique designs, drawing pictures, adding stickers, and writing something nice. Or, guests can simply write/sign their names.

The Birthday Girl gets to keep the card at the end of the party, and a large photo of the card goes into your daughter's Spa Party Photo Gallery as well. (For parties that are not birthday-themed, kids sign the card as a "guest board" instead.)
HD DVD Slideshow and In-Home Spa Party Photo Gallery with Custom Spa-Themed Graphics*INCLUDED*
-FREE HD DVD slideshow mailed to you after the party. We mail enough copies for yourself and your daughter, as well as each of the guests, some time after the party. The slideshow features photos taken during the party, with soothing spa music in the background. Memories fade, but with a DVD of the party, they'll remember the party forever.


-FREE Online Photo Album of the Event. Sadly, even the most fun and entertaining Home Spa Party must eventually come to an end. And from what Moms who've hosted our past parties tell us, the Guest of Honor and her friends usually talk about our Home Spa Parties for quite some time! The positive and joyous moments in a girl's life are important; these memories with friends and family are treasured for a lifetime. We really do our best to create the most positive and fun experience for the kids. To keep the memories of your daughter's Spa Party vivid, we've created our Girls Spa Party Image Gallery.

We take lots and lots of pictures! Within a few more weeks, we have the photos posted to our web site's Girls Spa Party Gallery Page. All photos posted are fully professional quality, clear and focused, as well as color corrected. The Guest of Honor and her friends can even add their own captions to the pics!~ Just ask!!
*Right now, it may possibly be a bit more time, the computer for the gallery processing stopped working!

As of February, 2014, we have just updated our Kids Spa Party Photo Gallery section. What we offer now is THE coolest, craziest Spa Party Gallery on the web! We have been working on this version for over a year, and it offers thumbnail views for cell phones, room for kids' and parents' comments, 4HD super hi-res images, so you and your family can view the fun on a larger screen LED TV, as well as fun extras like games and effects. Pictures from the Spa Party may also be downloaded from the DVD onto your computer, for placement in digital picture frames or for use as Windows or Mac screen backgrounds.

Images from our Mobile Spa for Kids parties may be linked to on your Pinterest or other social media page. Moms like this feature because they can share the fun their daughter had with family and friends. For tweens and teens, it's fun because they can share with friends on Vine or other social networking sites.
---
Girls Spa Party Custom-Painted Nail Art™ - *INCLUDED SPA ACTIVITY OPTION*
Not only will your daughter and her friends have the option of having manicures if they so choose, they also have a choice of insanely cool nail art designs. We bring brushes of all shapes and sizes, as well as stippling tools, a dizzying array of nail colors (and more to be blended at request!), as well as an aptitude, interest, and academic background in design, art, and illustration.

Anything available from "emojis" of burgers, pandas, dogs, squirrels, horses, hearts, roses, tulips, and more, to swirling funky psychedelic abstract art, colorful and bright, to more conservative designs. Our assortment of nail polish includes some of the newest colors and paint styles from many top professional lines, and we have a wide variety of colors and shades to choose from.

We absolutely love doing ombre color fades and blends, as well as intricate marbling. Two-tones, split-color, and glitter effects also available. We encourage each and every participant to carefully consider what she most wants painted on her nails, looking over all the colors and thinking of all possibilities.

We now offer exciting new choices in nail polish at our Spa Parties for Tweens and Teens: matte colors, metallic colors, glitters, holographic polish that changes color depending upon viewing angle, OPI Shatter™ colors, as well as Glow-In-the-Dark Clear Coat in various colors, Magnetic Speckle Pattern Polish in a variety of shades, and many more ultra-now, hip polishes that are popular right at this moment! As degreed artists, we are always seeking new types of nail polish, resulting in an ever-increasing variety of options and designs we can do for a Mini Mani. Of course, we apply quality base coat and top coat to keep the nail art perfect for longer.

We remind each guest at our Mobile Kids Spa Parties that plain one-color-nails or even French mani's are reserved, conservative, and elegant....truly fine - however, we also inform every girl that we offer other choices. The limit is only each girl's imagination. Still, if she's imagining simple pink nails, that fine, too. We have a wide variety of pink shades, from matte to metallic to holographic.

(February, 2013: New!) Solvent-Free Natural nail polish is now available as a Mini-Mani choice for Girls Spa Party guests. This will be a great relief to Moms intent on protecting their children from products containing synthetic chemicals, as now their girls may also participate in the activity, and don't have to feel left out from all the fun. We strive for all the attendees at our Mobile Spa Parties for Girls to have the best time ever, even those whose parents are concerned with kids' chemical exposure!

One issue we've encountered again and again at our Girls Home Spa Parties is the smudging of nail art. Even when placing fingers into a nail dryer, manicures were too often ruined, as most girls tend to move their hands quite a bit. Girls get very upset at having really cool nails for a total of only five minutes! After seeing this occur one too many times, we knew we had to find a solution. We once offered girls at our Kids Spa Parties the option of Manicure Protectors, but too many found them uncomfortable. And so, we stopped using them! Now, we simply encourage girls to chill out for a little while, as that's the only surefire (and painless) way of preventing the destruction of nail art, really. And, it works.




Nail Protectors preserve nail art
at our Mobile Spa Parties for Girls.

Girls can choose from a wide range
of custom nail art designs.
Kids Spa Party Mani Nail Art
Click Here For Our Spa Party Gallery!
NOW Even More *INCLUDED* Crafts and Fun For Your Daughter's Spa Birthday Party!
In the past, we restricted the crafts based on group size. No longer will this be! Now every girl, no matter how small her party's guest list, can still participate in just as much active learning and creating as any other girl! No girl should be penalized for choosing a more quiet and personal party with just her besties over a gathering of all her friends from every part of her life. That's a personal choice.
Kids Spa Parties with eight or fewer guests include the Soap Making Craft and Lip Balm Craft for free. For parties with nine to twelve guests, a choice of two of the four crafts below are also included free of charge, in addition to the Lip Balm and Soap Making Craft. For parties with over thirteen guests, all four crafts below are included for free, in addition to the Soap and Lip Balm Craft. The below crafts may also be added as extras for smaller groups, if you wish to have additional crafts.

Girls Home Spa Bubbly Bubble Bath Craft - *INCLUDED AS FREE CHOICE FOR GROUPS OF 7 - 11 GIRLS, INCLUDED FOR GROUPS OF 12 OR MORE, OTHERWISE EXTRA* For ALL!
Who doesn't love taking a hot bubble bath?! Our All-New Bubble Bath Craft is easy to do and requires no adult help for kids over seven. Each girl gets to create her own bubble bath mixture, choosing her own scent from a wide variety of choices.
Kids Spa Party Sugar Scrub Craft - *INCLUDED AS FREE CHOICE FOR GROUPS OF 7 - 11 GIRLS, INCLUDED FOR GROUPS OF 12 OR MORE, OTHERWISE EXTRA* For ALL!
Sugar scrubs are good exfoliants for the skin, and making them is a lot of fun. Kids get to choose their own scent and color. The container may be decorated and designed; each girl can create her own cool packaging. This craft is easy to do and requires no adult supervision or help for kids over seven years of age.
Girls Spa Party Fizzy Bath Bomb Challenge™ Craft - *INCLUDED AS FREE CHOICE FOR GROUPS OF 7 - 11 GIRLS, INCLUDED FOR GROUPS OF 12 OR MORE, OTHERWISE EXTRA* For ALL!
Fizzy Bath Bombs are cool. Making them is even cooler! With our New & Improved Fizzy Bath Bomb Challenge™, that's the idea! Girls get to create their own bath bomb with their favorite scent and color. This craft is the most difficult of our choices and may require some adult participation for kids under eleven. (Requires a freezer)
Spa Party For Girls Scented Bath Salt Craft - *INCLUDED AS FREE CHOICE FOR GROUPS OF 7 - 11 GIRLS, INCLUDED FOR GROUPS OF 12 OR MORE, OTHERWISE EXTRA* For ALL!
Bath Salts can soothe girls' aching muscles after a day's hard work at school, gymnastics, and dance class. And now, making custom Bath Salts is something guests at our Mobile Kids Spa Parties can do, creating cool mixtures of their own with a choice of colors and scents. The Bath Salts packaging may be decorated and designed by each guest. This craft is easy to do and requires no adult supervision or help for kids over seven.
Spa Party Slime Peel-Off Face Masque Craft - *INCLUDED [FINALLY HERE!!!]
Kids everywhere love slime. This is a fact, and if you have kids, you already know it, of course! If you check out YouTube, there are tons of videos on slime recipes, slime mail-order sources, and videos of kids playing with slime. Slime is big. So, in creating a new craft, we considered what kids are now crazily into. Tactile experience, like that provided by the those jelly-like "stress balls" so common back in the 90's, has helped many people, young and old, to deal better with stress.
We also wanted to create our own peel-off facial mask for kids, after reading ingredient lists on some popular peel-off masks in beauty stores and finding a lot of less-than-good ingredients. Peel-off facial masques yield incredible results, helping to open pores, moisturize skin, and much more, depending on the formulation. So, incorporating a slime-making craft that later serves as a peel-off masque was the answer! Kids can make One of four peel-off mask types. Gelatin-free and animal by-product free, 100% vegan, and all-natural ingredients make this craft great for everyone. (This is yet another challenging craft!)
We also offer additional services to our party guests,
at your request, each for a small additional fee:
Girls Spa Party Photo Prints & Memento Photo Post Cards *EXTRA*
We also offer high-quality 'real life' prints of images developed at a reputable photo lab on professional-grade Kodak® paper, from images that you select from your daughter's Home Spa Party Gallery. While digital picture frames are novel and fun, sometimes traditional photographic prints are in order.
(March, 2012: New!) We also offer Kids Spa Party Photo Postcards™ that fit in an envelope and may be mailed to each of the guests after the event. With the image of your choice, usually a group picture from the party, as well as custom graphics and your choice of personalized text, our Photo Postcards are a great way to express gratitude to guests for attending, as well as providing each of the girls with a valuable keepsake she'll cherish for years.
Girls Spa Party Gift Bags - *EXTRA*
Gift Bags are also available for party guests, stuffed with a variety of fun goodies. Included in the Girls Spa Party Gift Bags (suitable for girls 3 and older) are *SIX* items, including ~ONE~ gem, semi-precious stone, or semi-precious stone jewelry piece (April, 2012: NEW!!!), ~ONE~ small-size Aubrey Organics® skin care product suitable for even younger children, as well as a random sampling of ~FOUR~! age-appropriate gifts from fake 'tattoos' to glitter, nail buffers and organic soap to stickers, sponges, hair clips, or combs, as well as a variety of other fun surprises that any of your Kids Spa Party guests would enjoy receiving.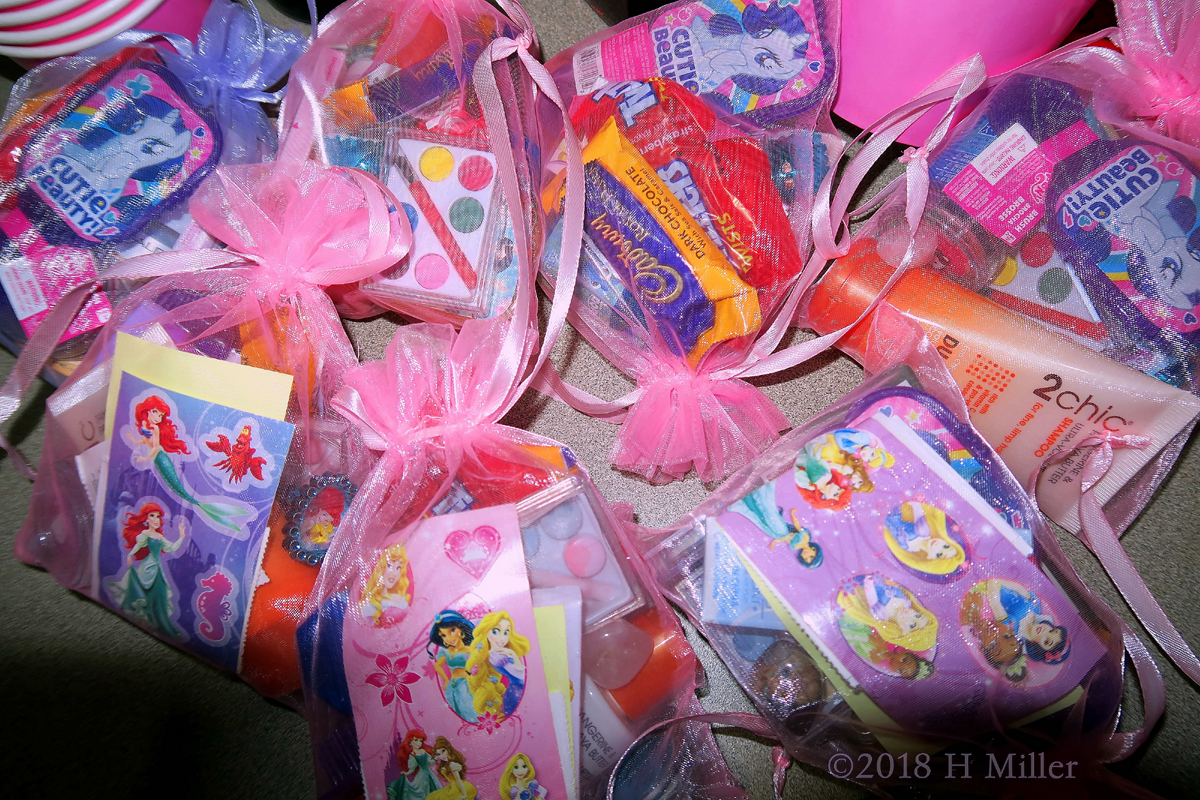 We also offer a more luxurious (April, 2012: NEW!) Girls Super-Deluxe Spa Party Gift Bag™ (suitable for girls 8 and older only) which bundles *13* cool items, including ~FOUR~ travel size Aubrey Organics® body, skin, or hair care products, as well as ~FOUR~ smaller Aubrey Organics® samples, in an elegant organza bag.

The Super-Deluxe Spa Party Gift Bag™ also includes ~ONE~ gem, semi-precious stone, or semi-precious stone jewelry piece, as well as a random assortment of ~FOUR~ of the above-mentioned goodies included in the Girls Spa Party Gift Bag, such as glitter, organic soap, nail buffers, stickers, hair clips, sponges, or combs.
Sparkling Apple Cider For The Kids Spa Party Guests - *EXTRA*
Chilled Sparkling Apple Cider is also available for all party guests. (Organic/Non-organic types available) Non-alcoholic (of course!!) and tasty, kids love it. Sparkling cider is a fizzy drink, much like champagne, and is often used as a healthier non-alcoholic substitute. For many kids, it's a real novelty. And, it's a great way to introduce girls to an all-natural beverage made from apples, a nutritious source of vitamins and minerals, and various phytochemicals that are good for health. Many kids today shun drinking juice, and instead prefer soft drinks or juice 'drinks', which are usually mostly water, sugar, and a very small percentage of fruit juice.
Kids Spa Party Chocolate Fondue Fun - *EXTRA*
Chocolate Fondue Fun. Of course, a Home Spa Party for Girls wouldn't be complete without a chocolate fondue fountain! For an additional fee, we bring the chocolate, as well as fresh strawberries, pineapples, and cookies to dip. Kids can also dip your own cookies, as well as any other party foods you have prepared or purchased for the event, from cupcakes to pretzels! All in all, this is one of the most fun extras we offer, and is always a hit with every age group.

You choose (ahead of time) the type of Chocolate, either soy-based dairy-free OR traditional milk chocolate, as well as the flavors, such as peanut butter chocolate, dark chocolate, white chocolate, as well as natural coconut flavor, butterscotch flavor, and more. We can also bring colored chocolate, or even swirled colors to dip into! Just let us know exactly what you want.

You can have two different multi-colored chocolates in the Guest of Honor's favorite colors, flavors, and types of chocolate. We'll also bring coconut shreds if you'd like! Or, you can choose cheese and crackers ~instead~ of chocolate and fruit, or have chocolate and fruit, as well as a second fondue pot with melted cheese and crackers on the side for dipping. You can choose the variety of cheese that we'll bring, ranging from Cheddar to Bleu to vegan dairy-free 'cheese' and many more. Just ask!
Kids Spa Party Homemade Chocolate-Making Craft - *EXTRA*
The Homemade Chocolate Making Activity lets kids make their own homemade chocolate using moulds with spa-themed shapes which girls can take home and snack on later, or share after the party's done. Milk chocolate, white chocolate, colored, soy, organic are all options. This craft requires adult supervision and participation for kids under twelve. (Must have access to freezer for this activity!)
Kids Spa Party Mailed Custom Invitations - *EXTRA*
We offer the option of taking care of the invitations for your daughter's Spa Birthday Party. Choose from a number of designs that we offer, from fun to formal. All of our designs are our own creation, and we make new ones all the time! Our library of different Kids Spa Birthday Party Invitations features our new designs for invitations. We can even create a custom design just for your party, based on your request! Mailed directly to guests, all you need to do is provide their contact information and addresses. Printed on high-quality card stock, or the option of textured 100% Linen Select Paper. From the moment your guests receive their invitations, they'll know that your party is going to be something extraordinary!



Click Here For Our Kids Spa Party Invitations Image Gallery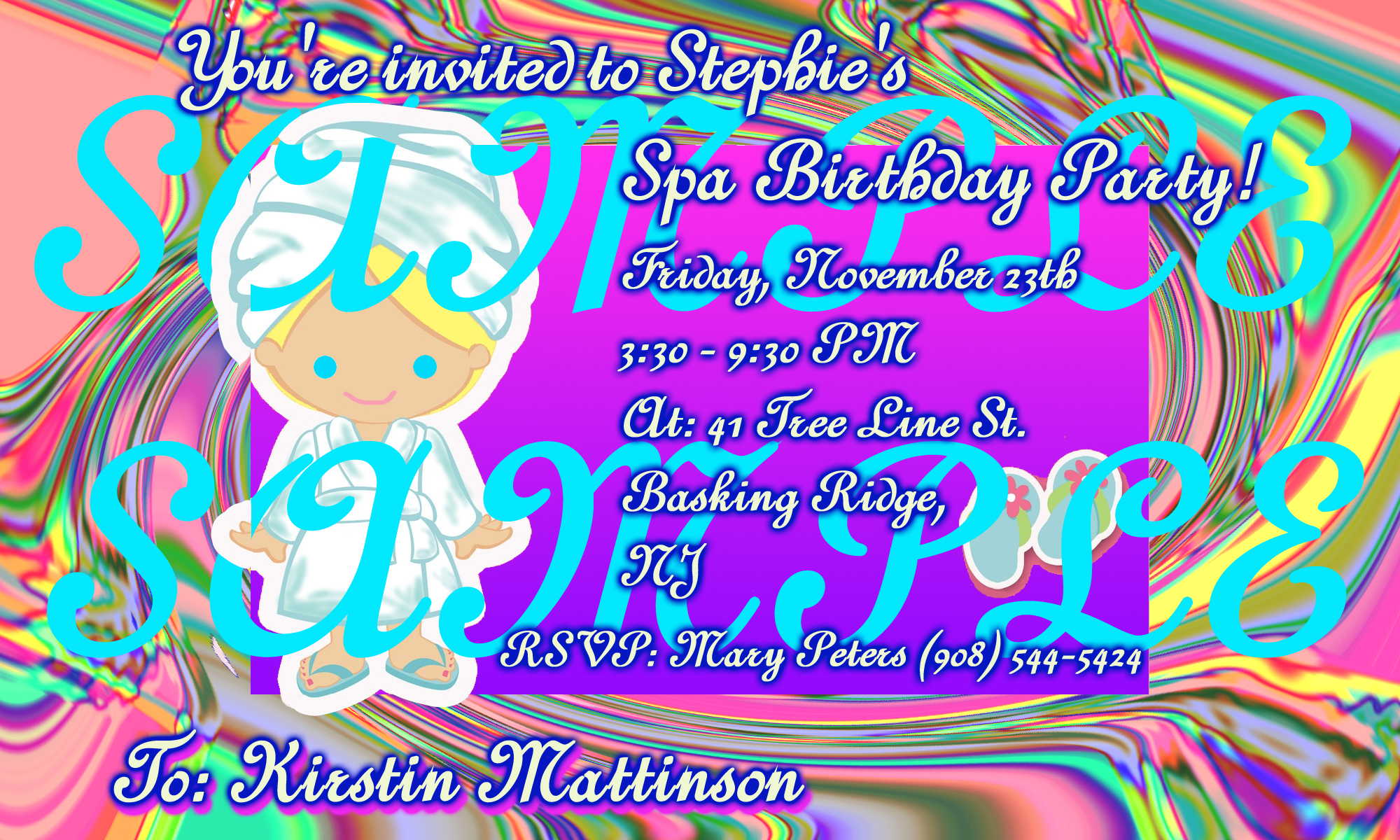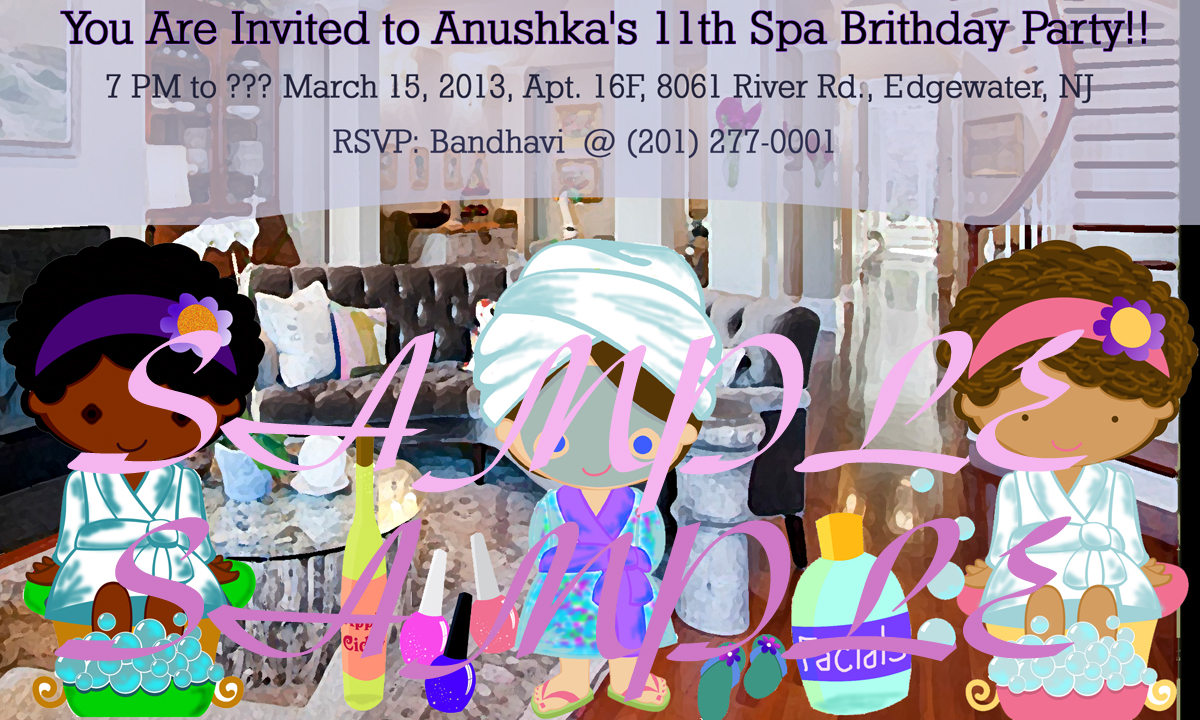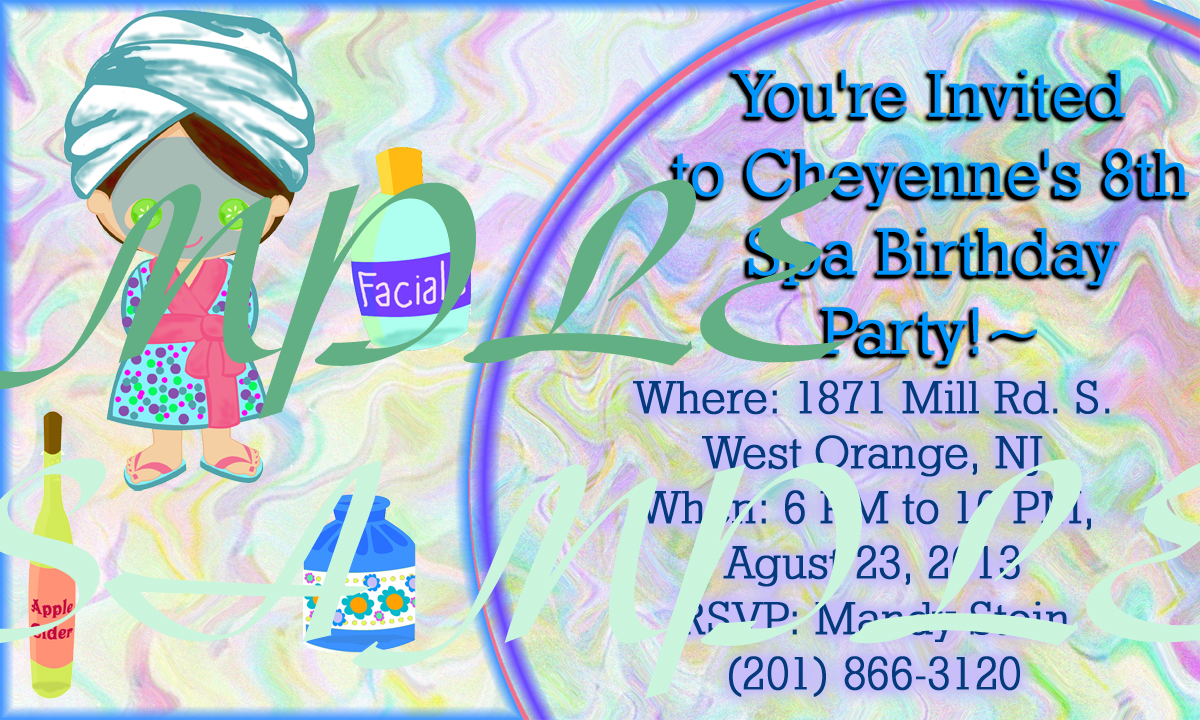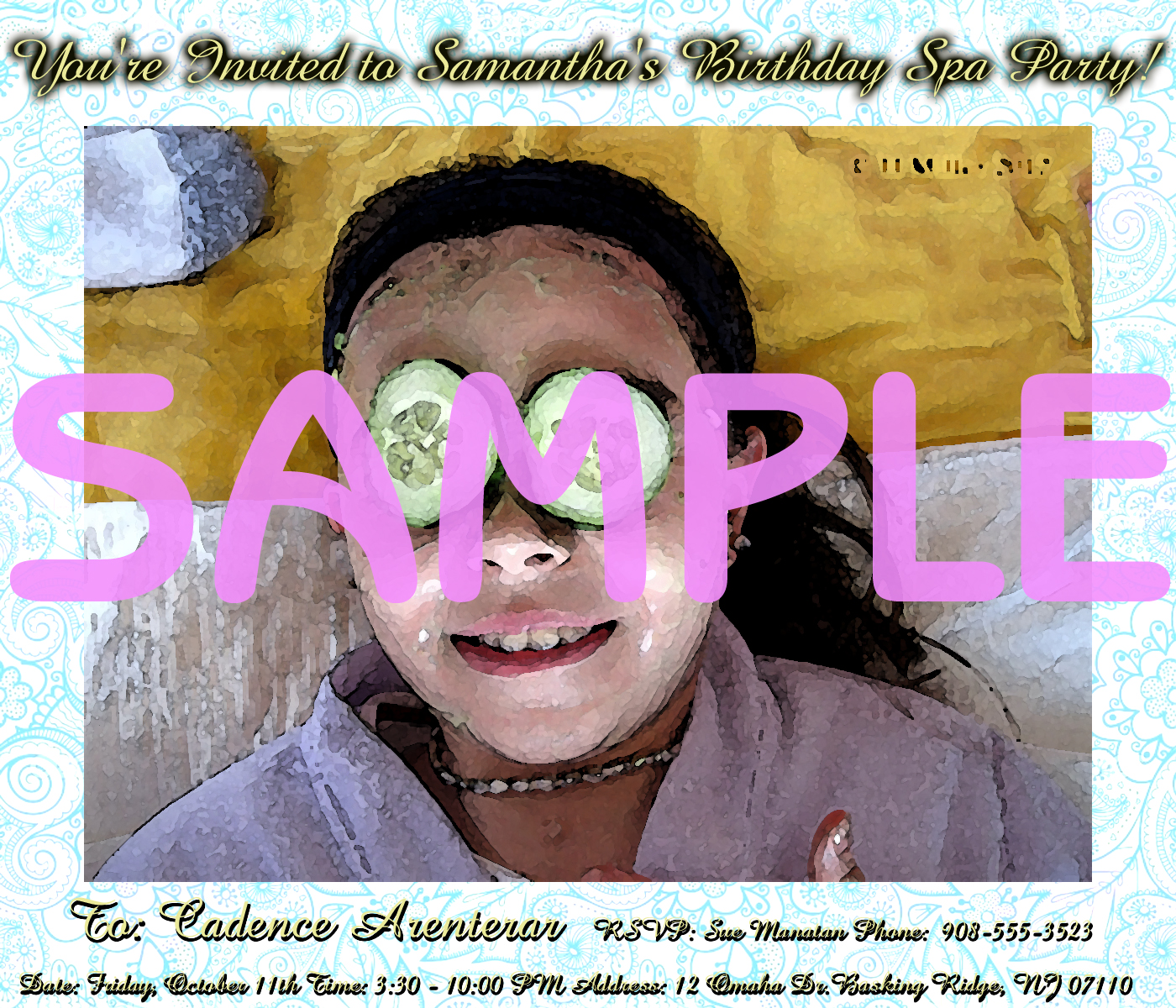 Kids Spa Party Laminated VIP Lanyards for All Guests *EXTRA*
Lanyards are another add-on available to customize your daughter's Spa Party. Each party guest will receive a lanyard with her name printed on it. We will even bring a couple of blank ones in case unexpected guests arrive - there's nothing worse than excluding unintentionally! Lanyards are provided to Kids Spa Party guests at the time of arrival.

Each VIP Card is custom printed with each guests' name and laminated in plastic. Your may also choose from an assortment of designs. These also make fun keepsakes. In a larger group of kids with many girls who don't know one another, lanyards may make socializing easier. Mobile Spa Parties for kids are about relaxing and having a memorable time with friends and family, not feeling stressed. If the girls are a very shy group, and there are a lot of guests attending, many of whom have not previously met, lanyards might be a good idea.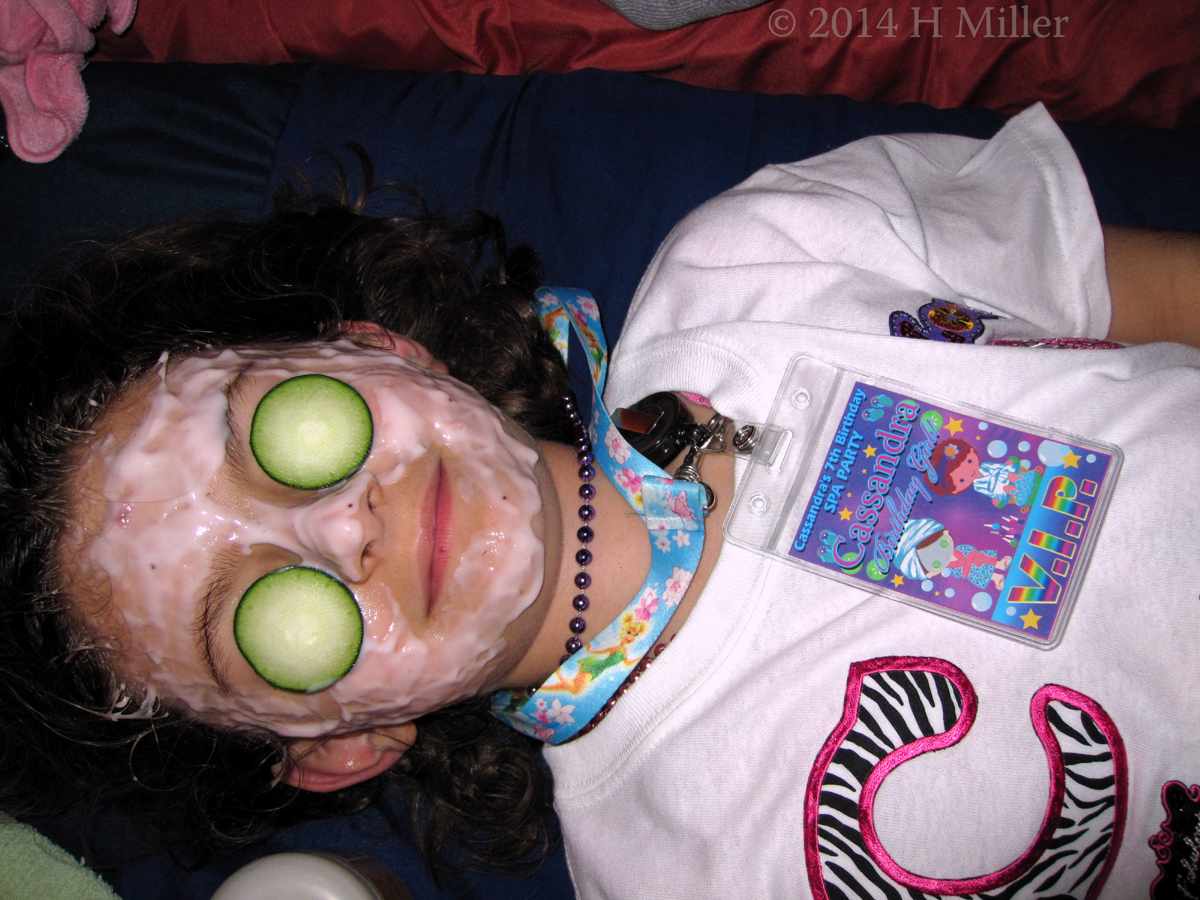 Jagua Temporary, Yet Lasting, 'Tattoo' Designs- *EXTRA*
Jagua tattoos are the NEWEST, LATEST!! (July, 2016) It's sort of like body glitter, in that both are not actually tattoos. But unlike the Glitter variety, the Jagua Tattoos have pigment that stains the skin, rather than having a substance affixed to the skin with adhesive, as in the Glitter type. It's not anything harsh; it's merely the dye from the fruit of the South American plant, Genipa americana, or simply Jagua.

Embera girl with Jagua body art, Panama. Image courtesy of Wikipedia Jagua entry.
Jagua Tattoos have been used in South America for thousands of years, and have survived as a cultural tradition among those inhabiting the region. Children still, to this day, receive Jagua (temporary) tattoos, in keeping with the cultural traditions. Of course, the designs we paint are different than traditional designs, more what kids in America would prefer, such as smiley faces, tribal designs, peace signs, and flowers. Please note: This temporary form of skin decoration lasts up to two weeks and requires express parental permission.
Glitter Body Art Temporary 'Tattoo' Designs for Kids Spa Guests- *EXTRA*
Each guest receives one glitter body art design, executed in sparkling colored glitter. The Glitter Body Art washes off in a few days, and is a lot of fun. Glitter Body Art is unlike the usual temporary tattoos in that it doesn't look anything like a tattoo, just colorful glitter arranged in a cool pattern. Guests choose the pattern.
Spa Party Themed Add-Ons *extra fees apply
Add-On Themes are like other add-ons, in that they're not included in any of our packages. The difference is, however, that each themed add-on can totally change the vibe of the party. Think of your daughter and her friends, and whether any of the themes might suit them.
'Sleepunder' *EXTRA*INCLUDED! NOW 100% FREE!
This was a new concept to us, introduced by a Mom who booked with us a while back.

We bring PJs, lounge pants, and robes, so the kids can have a pretend-sleepover party. Ideal if you want the kids to feel like it's a sleepover, without actually having any guests stay overnight. Great for little ones, but older kids have fun, too. Girls love dressing up and pretending, and in this case, they're really going to the "Spa at Home™"! (This does add a little extra time to the party, but the girls enjoy the experience.)


Dance Party *EXTRA*
We bring the beat! This is great for dancers or groups with tons of energy. Includes a blacklight, pulsing strobe, colorful lighting effects, and a mini-SD card with tons of danceable tracks of all types on it. You provide the speakers and the space. (Requires a separate room with ample space.)
We take the kids through a brisk and varied series of stretches and poses, incorperating Hatha Yoga, Do-In, and more. Great for active kids and little yogis! Also lead kids through a focused relaxation session, teaching them how to breathe deeply and untense their bodies and minds.
American Girl® Doll Party *EXTRA*
Your daughter and friends can receive spa treatments alongside their American Girl dolls! Features authentic American Girl day spa chair playset for dolls. Also handmade felt Cuke slices and tubs with "bubbles" for American Girl dolls included. Yay!
Inquire with us about which badges the girls would be helped to qualify for, having participated in the Spa Party activities and crafts. We can also do a short presentation about Skin Care so that the girls will qualify, if necessary. We have held Girl Scout parties for both troops and camps in the past. Fun Patches can also be awarded by the troop, which stipulates some rules and requirements on its own.
Groovy 60s-Themed Party *EXTRA*
Peace and Love! Get artsy! This party brings the girls a retro-blast, celebrating the art and music of America in the 1960s. With additional crafts, decor elements, and vintage music, hair styling, outrageous '60s makeup, and abstract, funky nail art, our Mobile Kids Spa will be time-warped into an even MORE colorful, MORE creative scene.
The featured 1960s-themed crafts include creating Tie-Dye Tee Shirts. There is also a bead craft; kids get to make cool bracelets! A fingerpainting craft is also part of the package. Decor includes lava lamp, psychedelic throws, and hair styling and nails with 60s cultural themes. Re-live a time when American creativity and expression were at an all-time summit.
---
Spa Parties For Girls & Self Worth: Learning Good Body Care Habits
An At Home Spa Party For Girls is a great opportunity for a young girl or adolescent to gain self esteem, learn to keep her skin clean and clear, and have a chance to laugh and be silly with her friends. Overall, it is a chance to grow, in terms of self worth, helping her to see that she is unique and worthy of respect and care.

We feel that how we orient our kids at a young age affects them later in life, and good habits are important. Girls must appreciate their individual unique beauty, not trying to look like other kids. We each have our own gifts to share with the world! Girls should learn that carefully caring for their hair, nails, and skin is essential, the same way they learned to brush their teeth and floss. It's an important part of growing up and really has nothing at all to do with vanity. (Please see our recent article on this topic.)


Click Here For Article - Girls Spa Parties: A Positive Experience Fostering Emotional Well-Being and Social Growth
It Goes Beyond Body & Beauty Care: The Value of Stillness
Self-care means attending to not only body and beauty care, but emotional and mental self-care as well. Girls learn to breathe deeply, relax and be still, to quiet their minds and feel peace. Facials, pediatric massage, and yoga stretches, all help to accomplish this goal. Kids learn that stress, no matter the cause, must be dealt with calmly and with inner strength and poise.
But that's not it; there's an even deeper level: That of the Spirit. All faiths appreciate the value of inner stillness. "Be still and Know That I Am..." is a phrase familiar to most of Jewish, Christian, and Muslim faiths. It cannot be overlooked. Hindu people, as well as Buddhists of all types, also appreciate the prized value of inner stillness. It's the quest to become our best, really. When we are able to become still in body and mind, we are better able to deal with the challenges of life, as well as experience the numinous within life.
Even modern psychologists and secular humanists, who probably contest most of what the Faiths of the world have to say, can agree that different brainwave states produced during massage, yoga stretching, and meditation (not unlike lying supine and still as during a facial), are all associated with mentally clear and emotionally calm brainwave states, such as Alpha, Theta, and Delta waves. It's been tested in a clinical setting, so it isn't a matter of opinion.
This is what we seek to bring to children, even more than an unforgettable and fun time. We've had girls say that a facial or massage was the best experience in their lives more than once. There's a reason. Kids need to relax and get in touch with themselves and get grounded, something difficult to do in our app-based, fast-paced lifestyle.
Certainly, boys are welcome. There's no reason boys can't be included at Kids Spa Parties, or why they can't participate in activities if they're at a girl's Spa Birthday Party. (Of course, some activities are really more appropriate for girls, such as having nail art painted. And sometimes, girls just prefer an 'all-girl' guest list. That's understandable.) The point is, if a boy cousin or sibling is present at a spa birthday for his relative, he doesn't have to feel left out by being forbidden to participate. There's nothing 'girly' about getting a massage, and a facial doesn't involve putting on makeup or being fashionable. What teen, boy or girl, ISN'T going to want clearer skin, or be rid of final exams tension in their shoulders!?
*Persuant to N.J.S.A. § 45:5B-12.1: 'Spa Parties' are for
entertainment purposes ONLY; no aesthetician's chemicals or specialized beautician treatments are EVER employed.*

Facial Masques and Massage Therapy are completely within the scope of practice of our licensed and insured Certified Pediatric Massage Therapists (CPMTs).
Click Here For Our NEWLY Relaunched Spa Party Gallery 💅(2023)
Click Here For Our Kids Spa Party Planning Guide
Massage Parties For Boys & Girls (Ages Three and Up)
Massage Parties have practically zero set-up time, in contrast to kids spa parties. It's literally a minute or two: Snap open the portable massage chairs or unfurl the SHiatsu mats, set up the sounds, scents, and candles, wash our hands, and that's it! We're ready to go! For younger kids, Shiatsu Mats are used, as per Pediatric Massage best practices. For teens thorugh adults, there is a choice of Shiatsu mat, massage chair, or portable massage table. Massages are fully clothed and oil-less.
Toddlers, small children, tweens, and adolescents all benefit from Pediatric Massage; many studies have demonstrated this. These are short-duration, fully-clothed saeated chair massages, usually about ten to twenty minutes. It's a good introduction to Therapeutic Massage for kids. Girls and boys who are athletes usually find this to be incredibly helpful.
For Massage Parties, guests receive a Therapeutic Massage session ONLY. (There are no Spa Activities or Spa Crafts) Massage Parties are suitable for children of all ages, boys as well as girls. Adults present may also get a massage if they choose. We are Certified Pediatric Massage Therapists (CPMTs), however we may also work on adults.
We set up a tranquil space, and help your guests (as well as the Guest of Honor, of course!) relax and feel stress-free. Some families choose to provide more time for the Guest of Honor's massage session than the rest. Others request 4-Hand Massage for the Guest of Honor's session. It's your choice.
Click Here For info on Massage Parties for kids or adults
Massage & Yoga Parties For Boys & Girls (Ages Three and Up)
At our Yoga & Massage Parties, guests each receive the option of Therapeutic Massage, as with our Massage Party package. At a Yoga & Massage Party, however, the group is also led through a fun, fast-paced workout session that incorporates Hatha Yoga, a traditional system of fitness from India, consisting of stretches and still poses called Asanas, as well as deep breathing exercises, which together foster a feeling of relaxation. Some Chi Kung exercises, taken from an ancient Chinese system of keeping fit, also contribute to our routine.
Kids find these exercises challenging and interesting, different than the usual calisthenics done in gym class, though many schools now teach kids how to stretch and learn to relax. These various exercises encourage physical fitness through body awareness and help increase awareness of breathing, and can be helpful when applied to sports. Learning to relax can also help with studying, and dealing with the stresses of a kid's life.